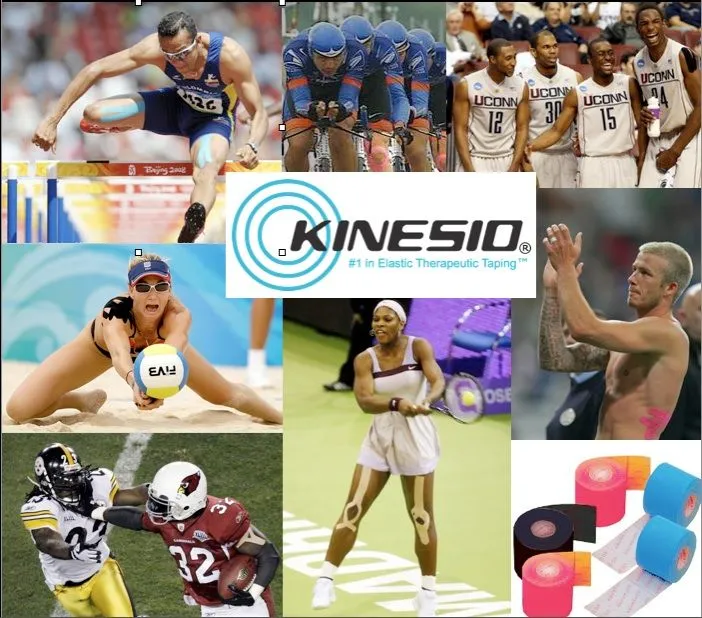 Kinesio Taping (KT) is a taping technique developed by Dr. Kenzo Kase, a Japanese Chiropractor, in the 1970's. This technique has been used very successfully in Japan for 30 years, but received tremendous exposure over the last two summer olympics. KT has been used by several elite athletes including; Kerri Walsh, Phil Dalhausser, Ernie Els, David Beckham, Robby Ginepri, Patty Schnyder, Bret Booneand Lance Armstrong (none of whom have endorsement deals with KT). In fact, in Lance Armstrong's 2003 book, "Every Second Counts," he refers to KT as "a special hot-pink athletic tape that came from Japan and seemed to have magical powers." The tape actually comes in four colors; tan, black, pink and blue with each tape being exactly the same except for the color (in Eastern medicine different colors have different healing properties).
KT has four effects:
Normalize muscle function
Improve lymphatic and blood flow
Reduce pain
Correct joint malalignment and improve proprioception
The tape is designed to have the thickness and stretch properties of normal human tissue. After having the tape on for approximately 15 minute sit feels like a layer of skin. The tape moves with the body allowing normal human biomechanics. In addition, it has a lifting property which helps relieve pain and improve blood flow. Unlike typical athletic taping which is used to stabilize a joint, KT is used to enhance normal human motion, improve blood and lymph flow and reduce pain. These physiological effects enhance the body's healing processes providing a better environment for tissue healing to take place.
Dr. Zeitler is one of only a few certified kinesio taping providers in Connecticut. Although you do not have to be certified to use the tape, certification gives the treating physician knowledge as to direction of tape application, percentage stretch of tape, type of tape cuts, and what type of tissue for which the tape should be applied. These are very important factors to increase the success of kinesio taping. For more information go to www.kinesiotaping.com.