About Dr. Zeitler
Dr. Zeitler has two office locations-Newtown Performance Chiropractic and Ridgefield Performance Chiropractic. Although Dr. Zeitler specializes in sports related injuries, he has extensive experience working with various neuromusculoskeletal conditions. He has worked directly with orthopedic surgeons for several years providing patients non-surgical options, as well as, treating patients post-surgically.
Dr. Zeitler obtained his Bachelors degree from the University of Connecticut and his Doctorate of Chiropractic and Masters in Nutrition from the University of Bridgeport. In addition, he completed a three year diplomate program in Rehabilitation from Southern California University. Dr. Zeitler has spent several years pursuing other treatment techniques allowing him to provide more treatment options for his patients. These treatments include Active Release Techniques (ART), Sound Assisted Soft Tissue Mobilization (SASTM), Kinesio Taping (KT), Functional and Kinetic Treatment with Rehabilitation (FAKTR), Specific Proprioceptive Response Taping (SPRT), and McKenzie Mechanical Diagnosis and Treatment Method for the cervical, thoracic and lumbar spine. Dr. Zeitler is also part of USA Swimmings selected providers.
Dr. Zeitler has worked with patients of all ages and abilities. He has race day experience working at multiple Ironman Triathlons, and the New York City Marathon. He has also worked with members of the U.S. Olympic team performing biomechanical analysis and treatment. In addition, he provides treatment and sponsors local races and teams including the Pat Griskus Triathlon series, Rev 3 Triathlon, TriRidgefield, Run Like a Mother and the Bethel Triathlon Club.
In order to treat athletes, Dr. Zeitler believes that he should also compete as an athlete. This gives him a better understanding as to the amount of time and dedication athletes put in their training in order to succeed at their event. Dr. Zeitler competes in triathlon, and road races, is an avid skier, enjoys mountain biking and hiking and coaches his daughters soccer teams.

Dr. Zeitler has worked as part of the ART Ironman treatment team at Lake Placid multiple times.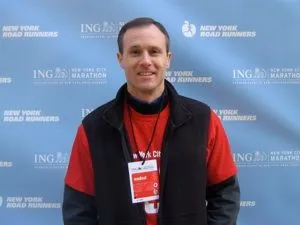 Working as part of the medical team at the New York City Marathon